I'm just now recuperating from my son's 4th birthday party this past Saturday. It was a blast but it was also a lot of work for this DIY mom. (So worth it though!) Below are the photos I captured along with some of the party details.
About 2 months ago we had to finally make a decision on the theme for Jack's birthday party. It was REALLY difficult as Jack loves so many things. We gave him 3 choices and in the end he wanted his all-time favorite type of party – a music party. We're not the "Party like a Rock Star" type so it was a challenge to find party props that didn't have pointy electric guitars or tons of stars.
I began with creating his invitation and all the other designs were based off of these components. (If you've been on my Facebook page then you've probably seen the peek I posted.)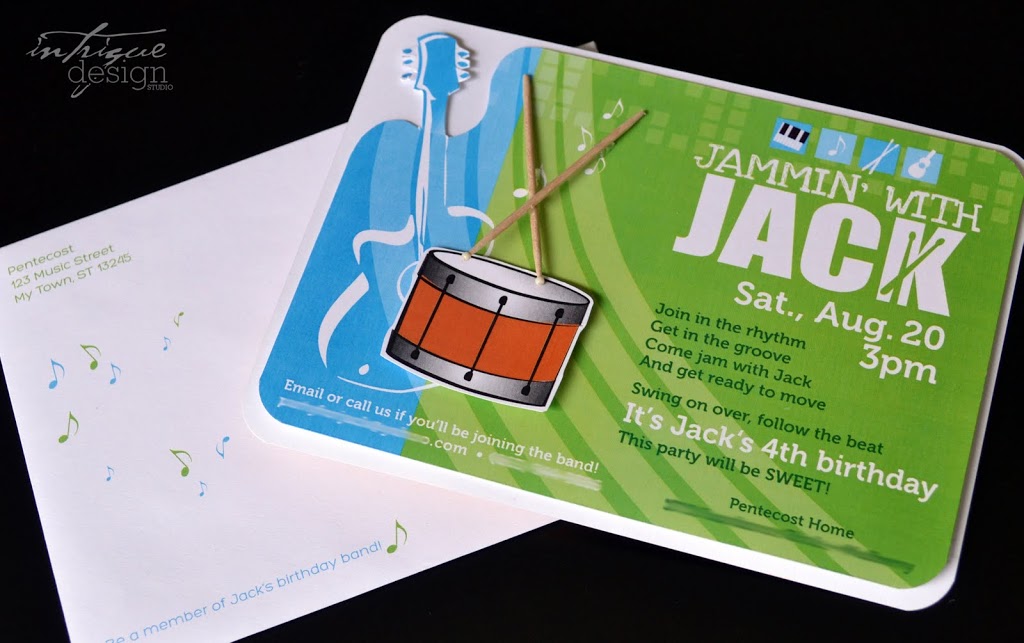 I then started on the other designs for the snack table, the craft table, and signs for the front door and above the gift area. It all came together so nicely. (If only I could create time I would have been able to finish everything I had planned… oh well!)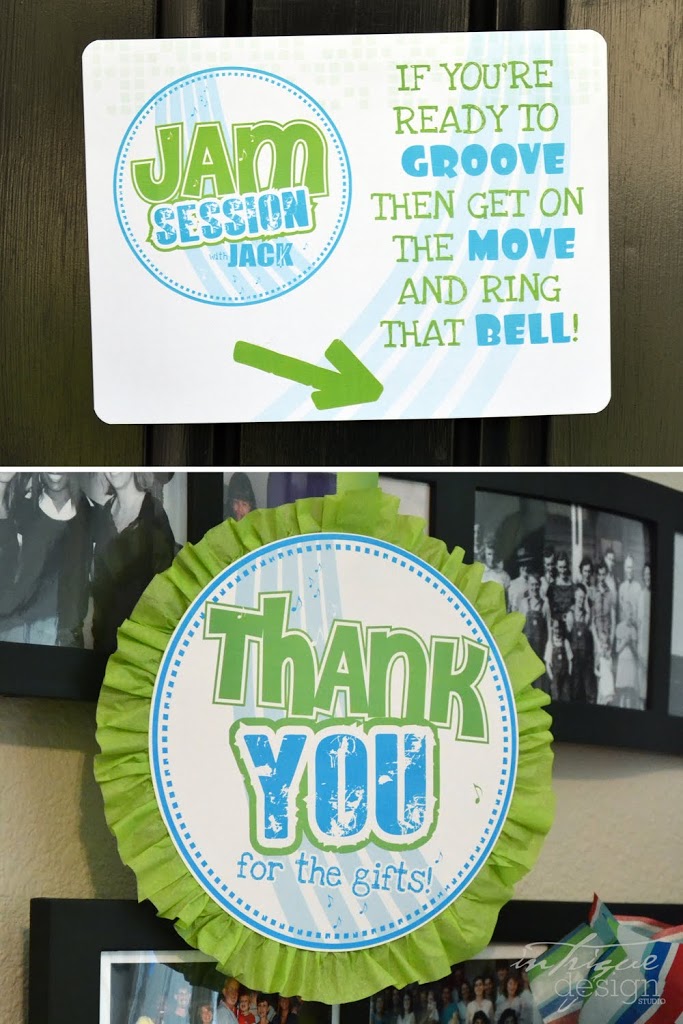 I assembled some accessories for creating a few musical instruments and when guests arrived they were given the opportunity to create their own personalized bongo drum, tambourine or shaker.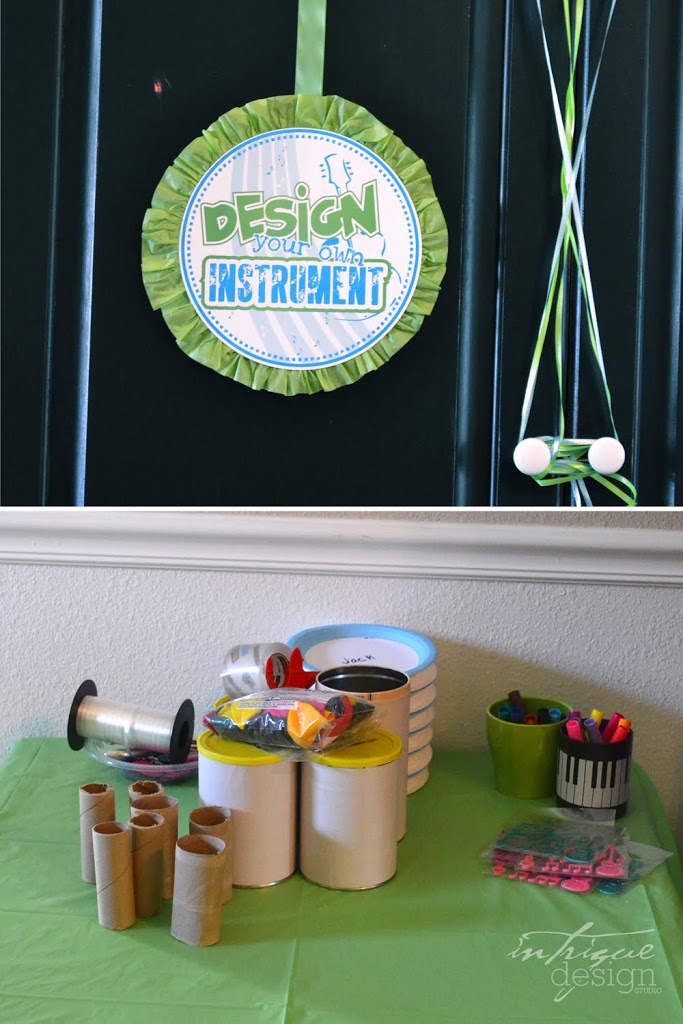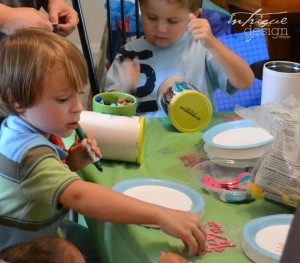 We then had some free play time but soon it was on to the snacks and cakes. I created the large circle sign for the backdrop (I'm now seeing I forgot to add tape to the front connecting pieces) and then added black tablecloths for the side draping.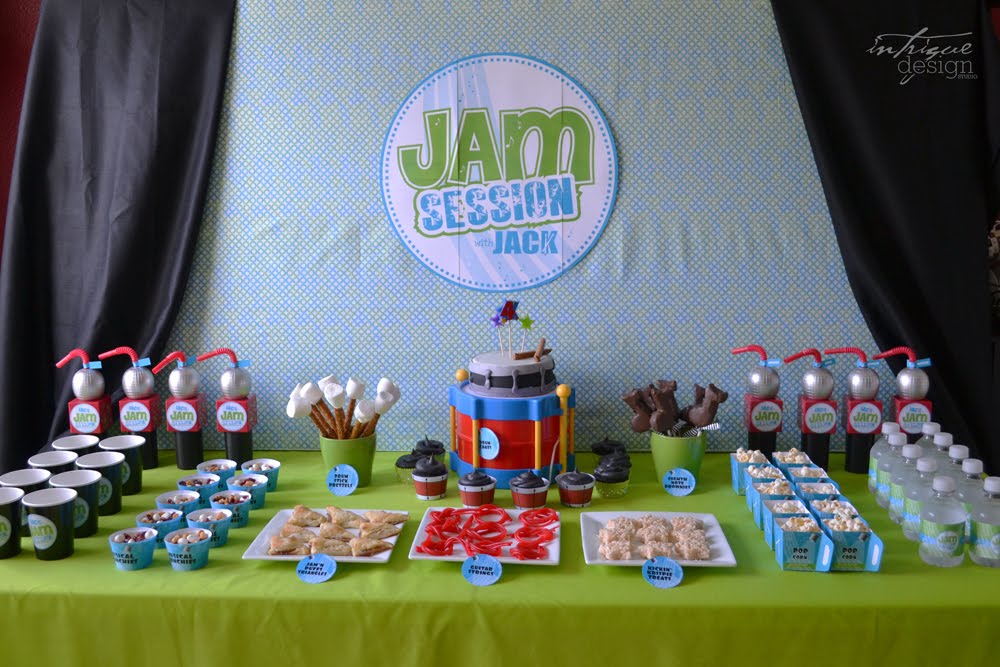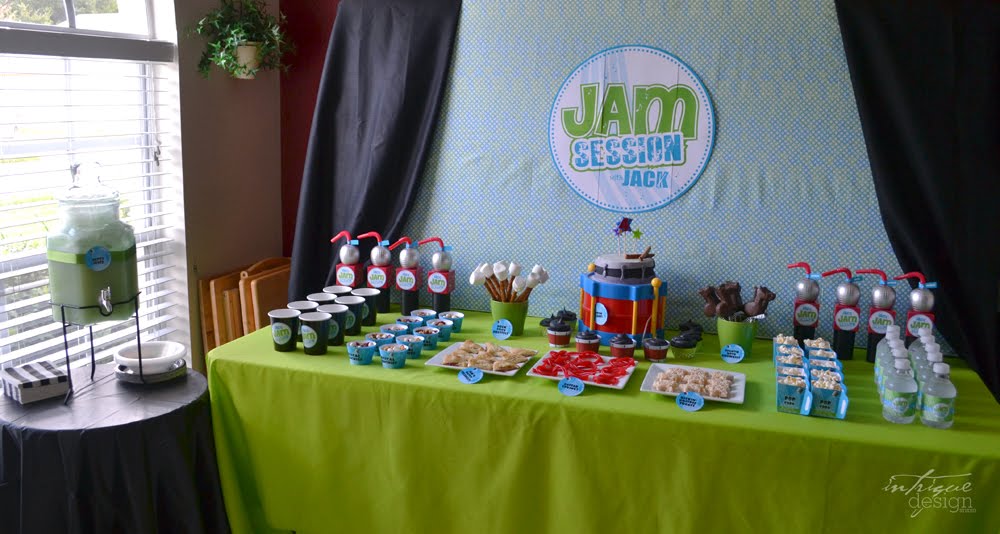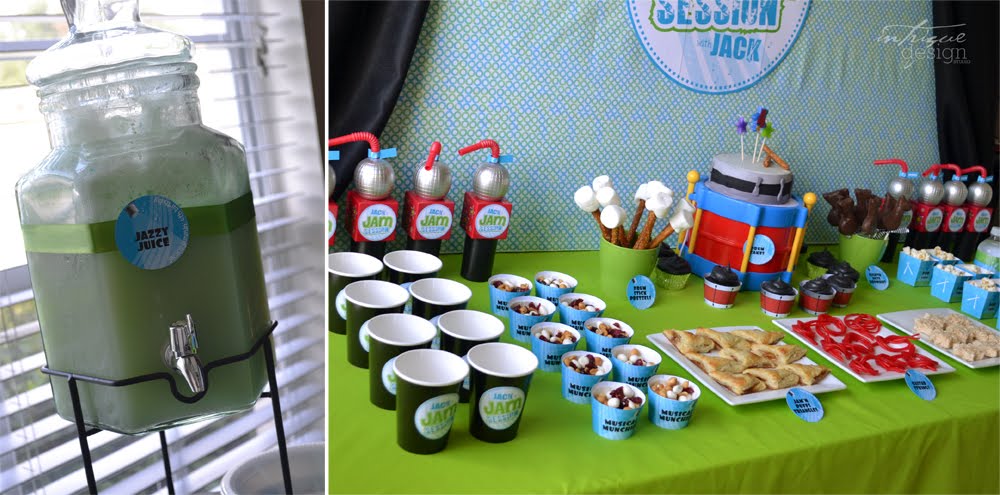 The table featured a mini cake shaped like a drum, Musical Munchies (yogurt cranberries & nuts mix), Jam 'n Triangles, Guitar strings (string twizzlers), Kickin' Krispie Treats, POPcorn, Drum stick Pretzels and Eighth Note Brownie (pops). For beverages we had water bottles and Jazzy Juice (lime sherbert with ginger ale.) The kids got their own personalized Microphone Cups too!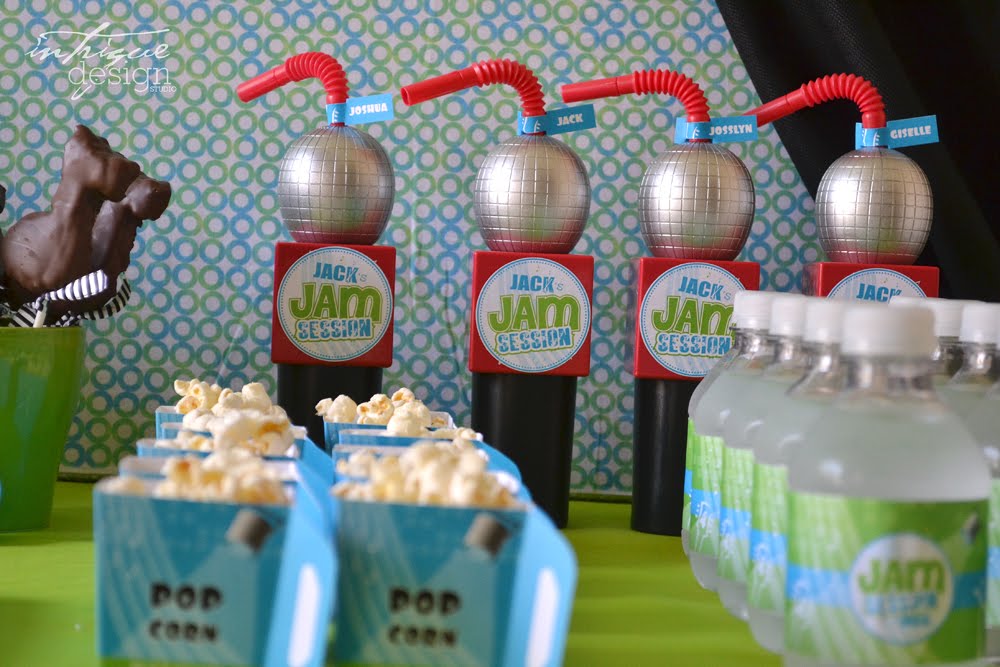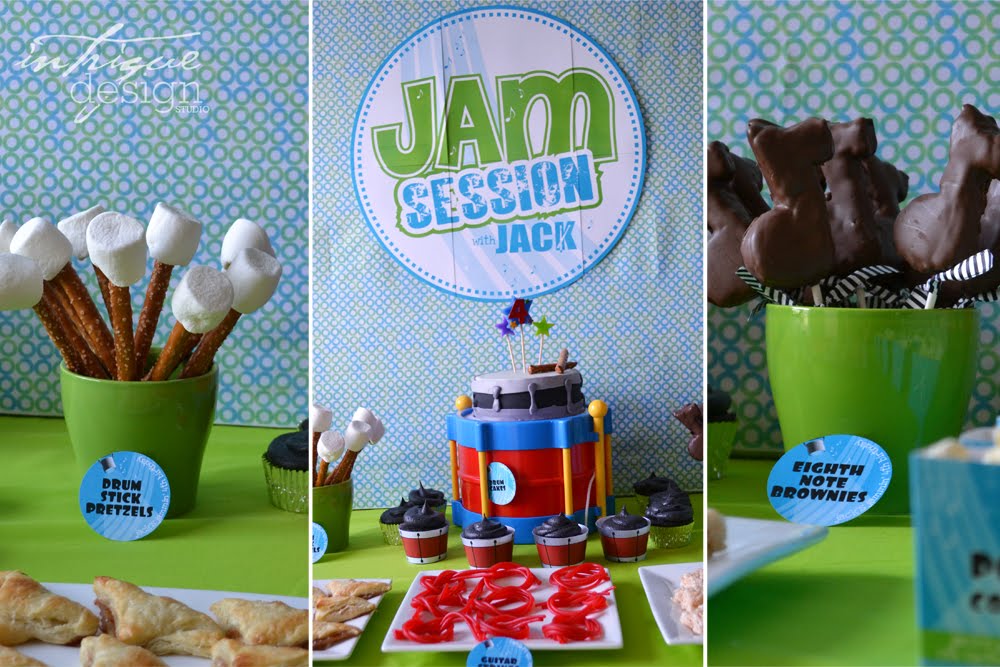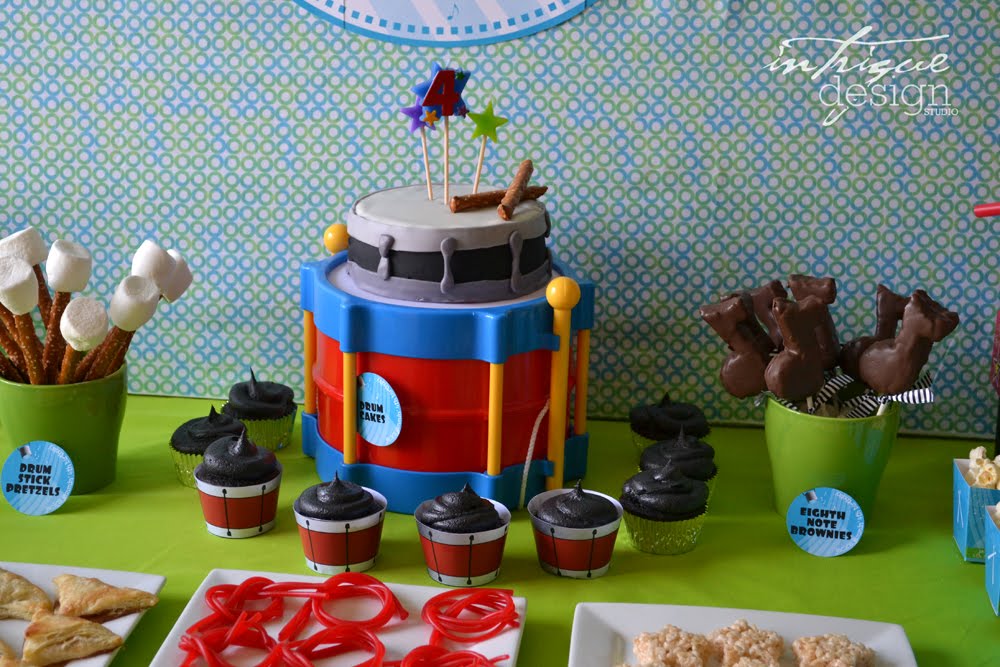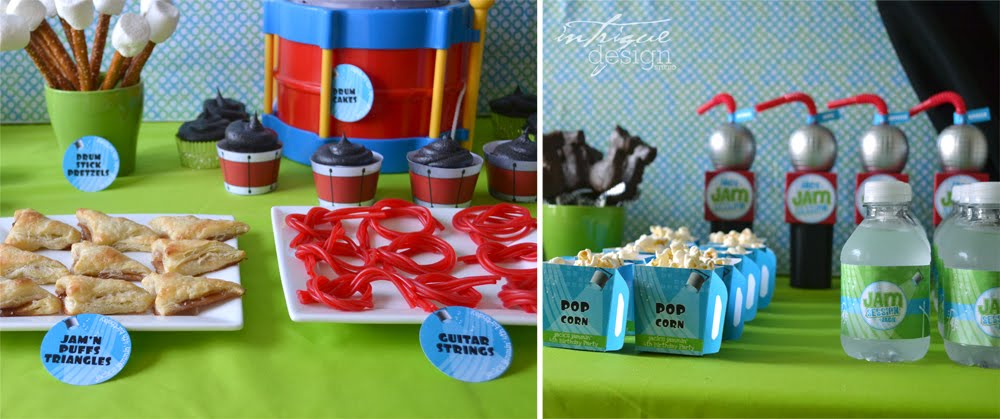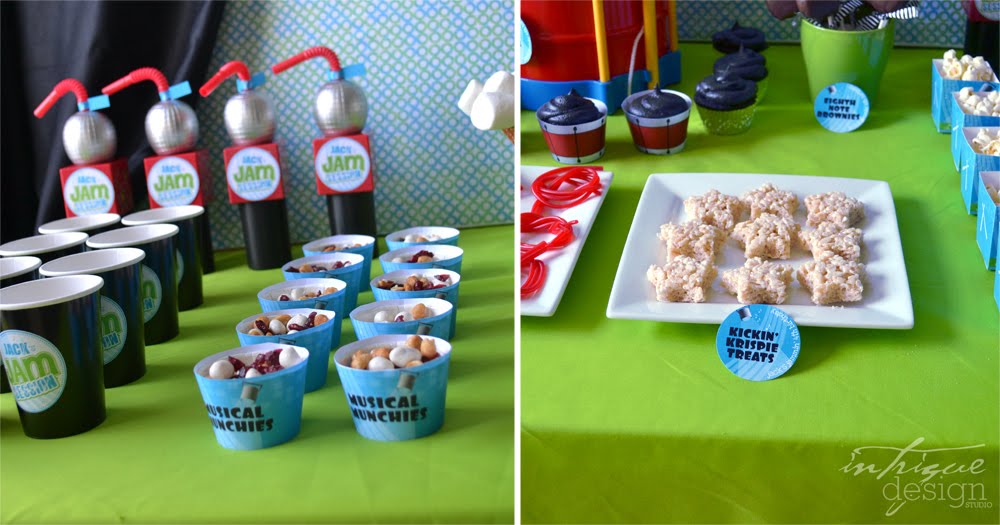 I wanted little drum cupcakes for the table but rather than use fondant around the whole little cake I opted for a cake wrap. I intended to use a white fondant circle on top of the black icing to create a flat drum surface but time limited me. The kids didn't know the difference though. (see picture… lol)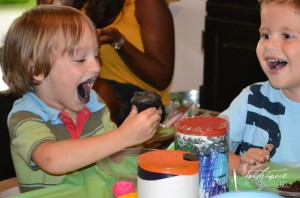 After snacks we grabbed our home made instruments and listened to my husband tell a fun story that had action words. Every time we heard the words "music party" everyone was supposed to sound their instruments. It was fun (and loud.) 🙂 It was now time to head out to our stage area.
We asked everyone to keep their instruments and did a little "repeat my rhythm" game. My husband let Jack come up with what to match but that didn't work so well as Jack went right into a full length beat. It was pretty funny.
Next on the agenda was our Jam Session. My husband and I set up the patio with some drapery and my husband's drum set. Jack has been playing on his dad's drums for a while now so he knew what to do. I had invited our band leader to come and play his guitar for our little jam session and it was amazing to watch Jack just beam from his seat.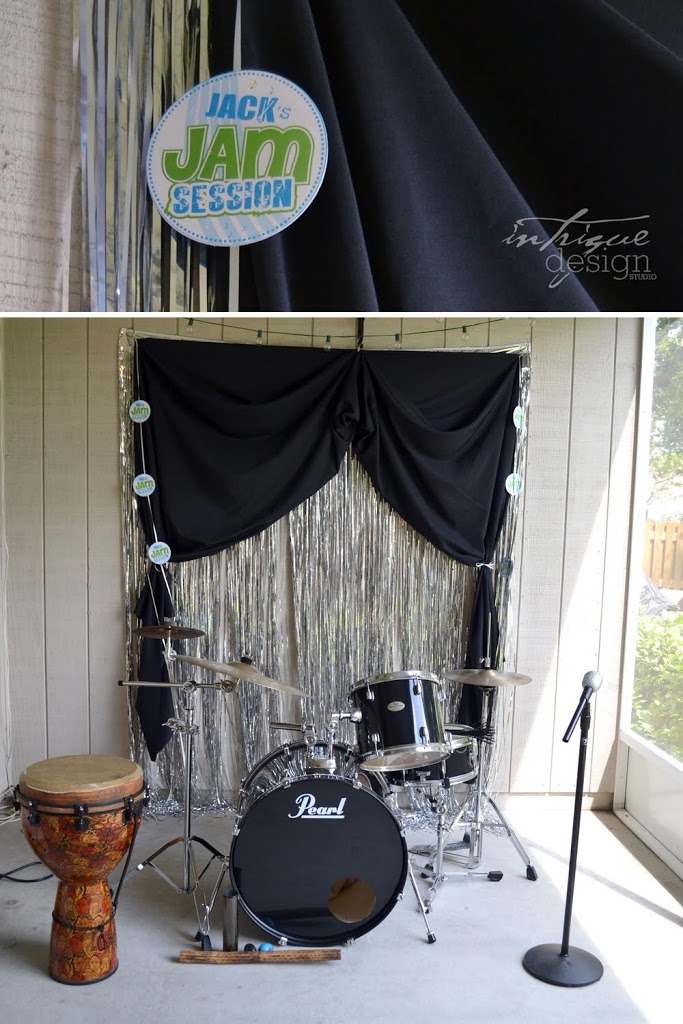 It's Florida.. in the middle of the summer heat & humidity… so we did a couple of songs (really only one song two times) and we were all ready to head back into the A/C. That was fine by Jack because it was time to open presents! He loved everything and I love how expressive he can be. Of course, I am a bit biased. 🙂
As people started to leave they were asked to grab some of the sugar cookie notes I made and set up on a favor board. They also had a personalized bag to keep.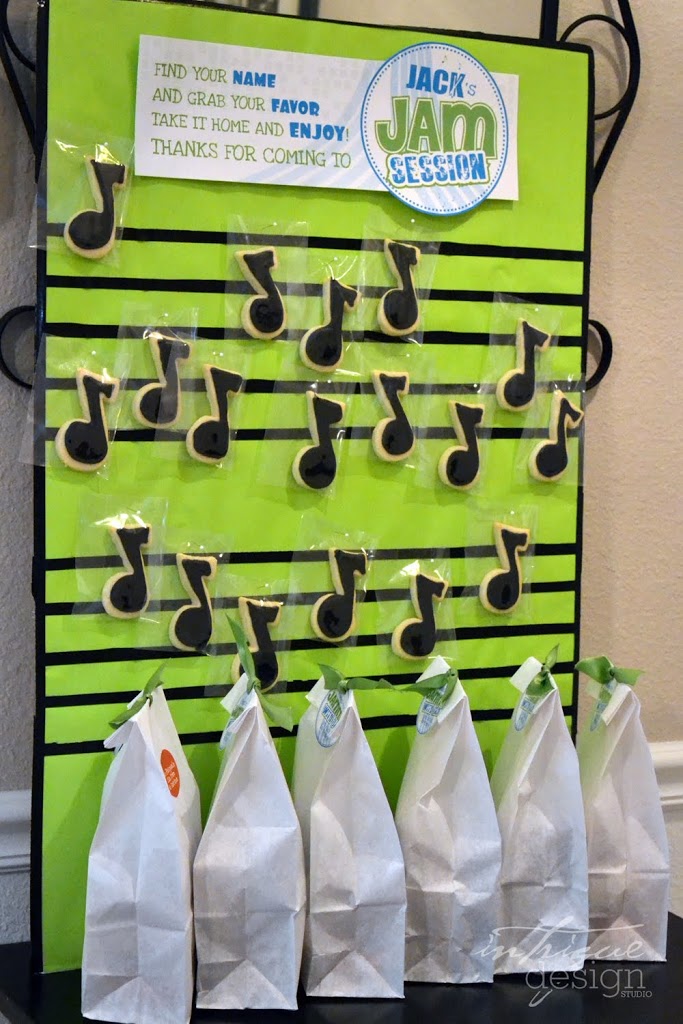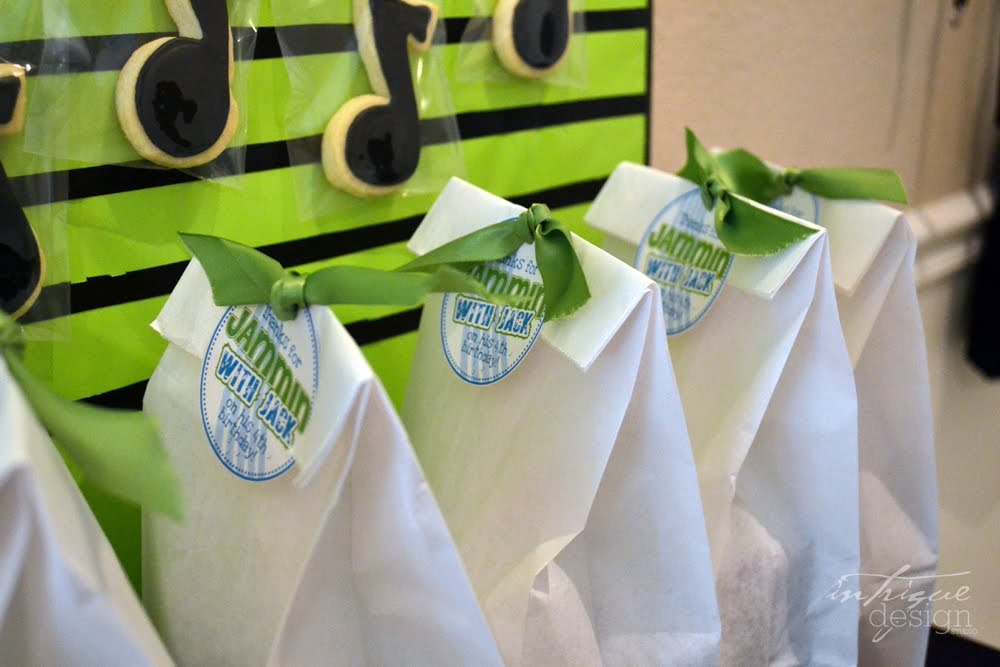 I decided to order special sugar cookies as a part of the favors and aren't they great? (Bees Knees Creative is one of the best so check them out!)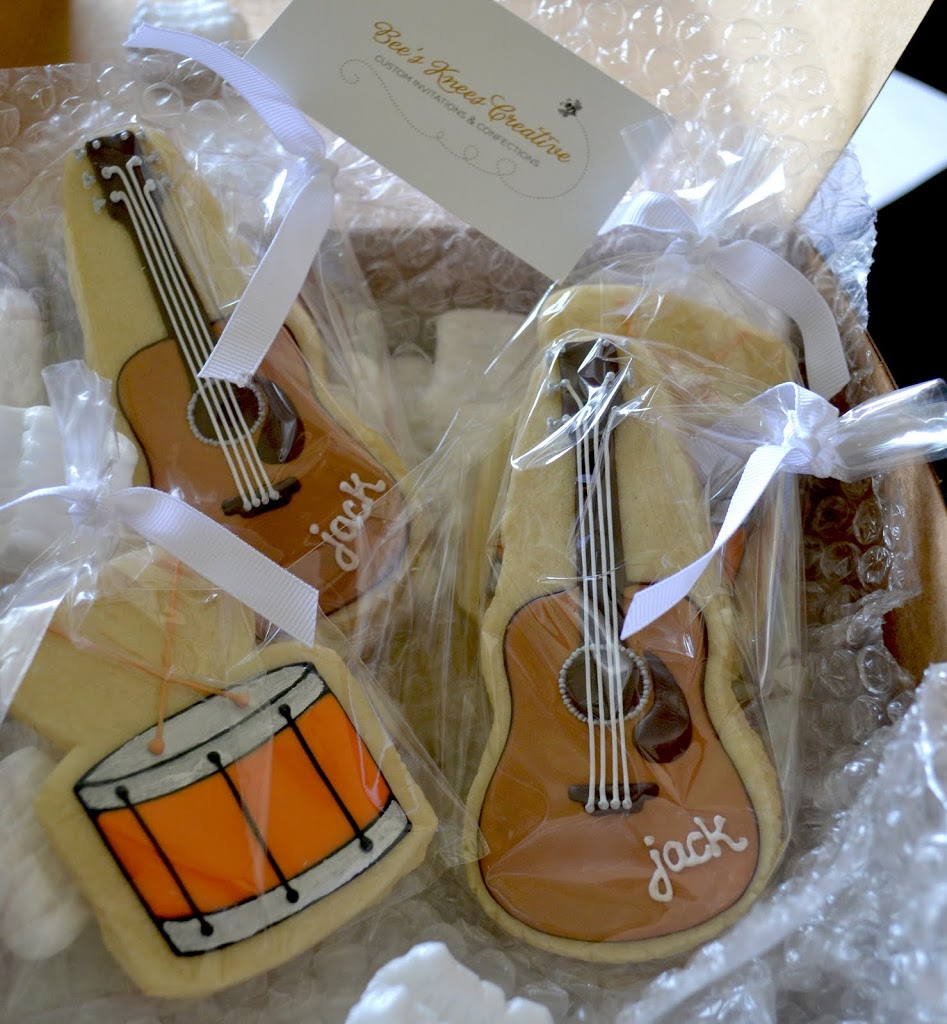 The children got to take home their microphone cups, along with some other musical instruments and the adults got their special cookie along with a jar of 'jam'!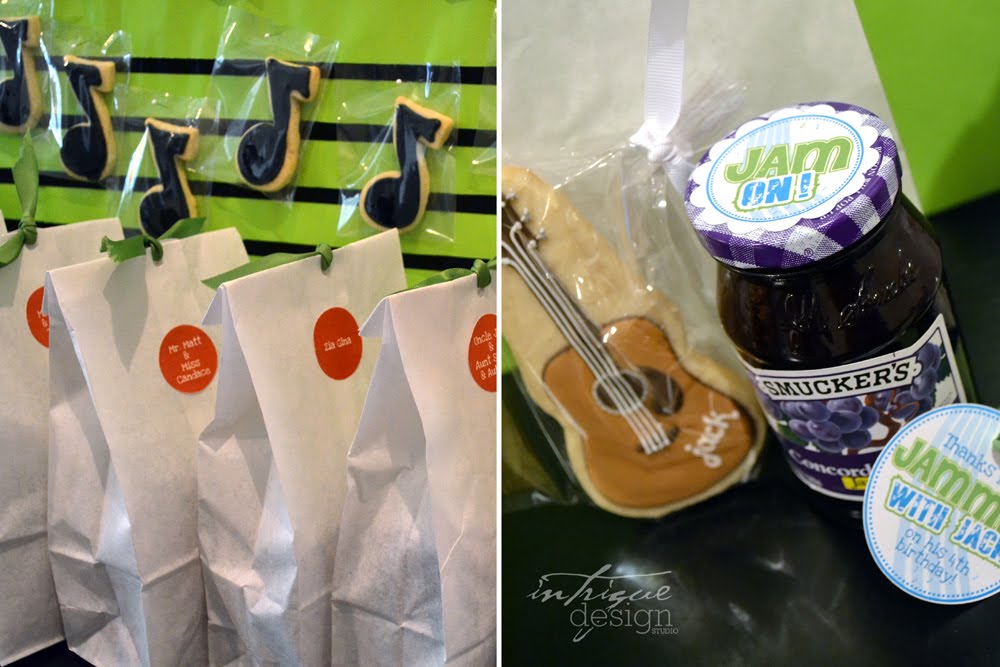 Lastly, I love this picture of Jack getting ready to blow out his candles (minus the bongos.) So magical… as was everything! I wonder what we'll do next year! 🙂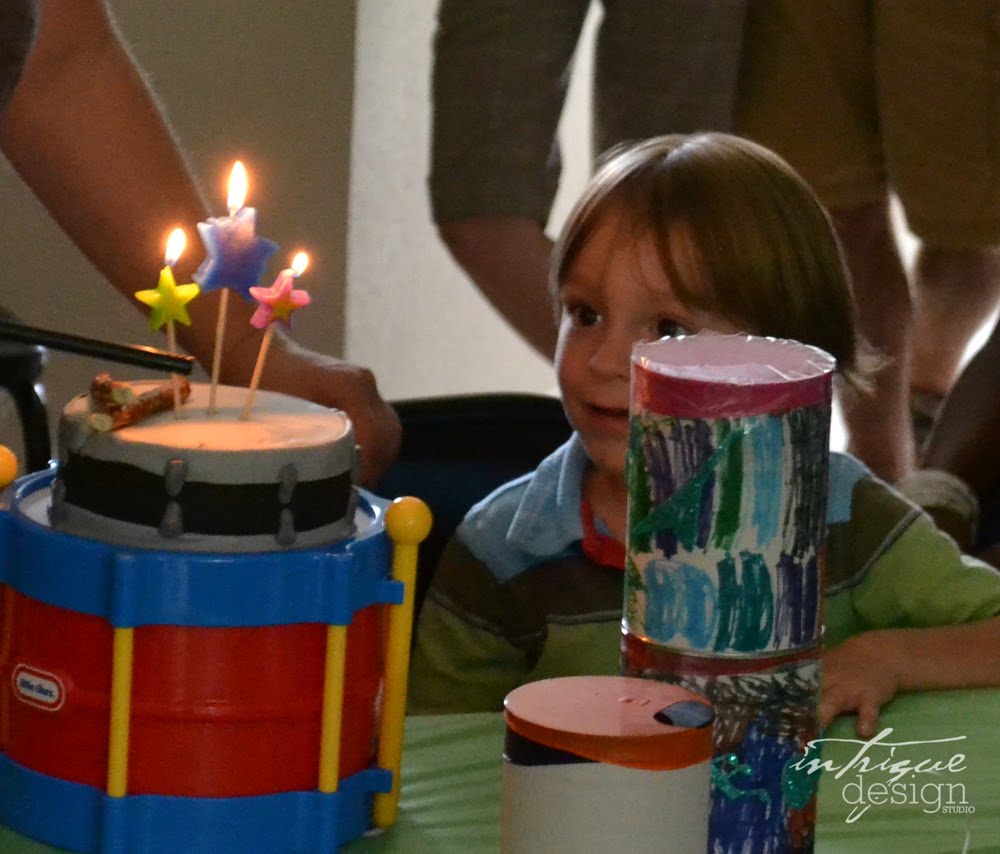 If you'd like to use this design for your next party, feel free to check my etsy shop as I'll be adding it soon!