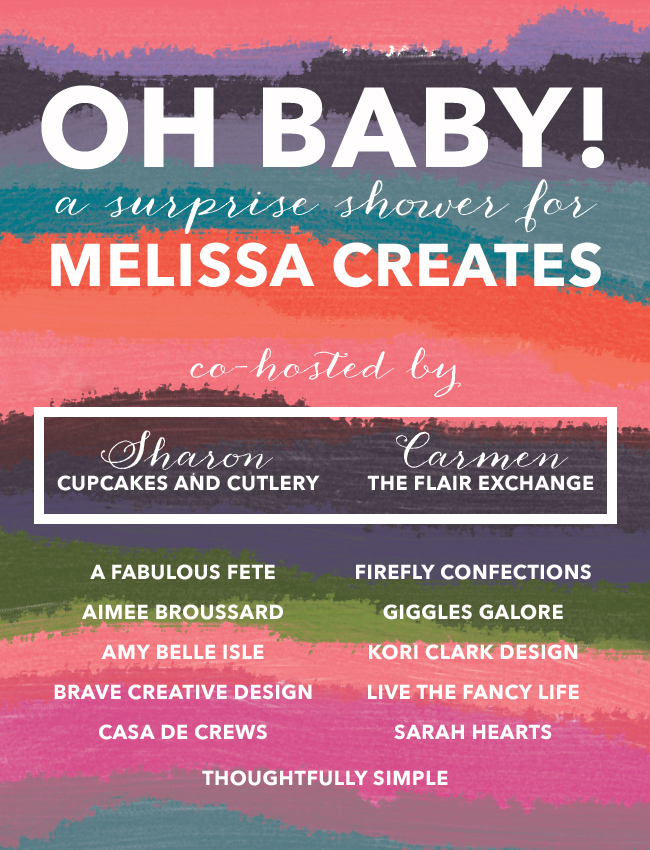 I'm so excited to join several amazing ladies (see below for links) in this SURPRISE virtual baby shower for my friend Melissa of Melissa Creates! Melissa and I became friends after meeting at a Florida Bloggers hangout that she organized back in 2011. We've had some fun times together including a trip to NYC for a Martha Stewart Dreamers into Doers conference (where I met the amazing Sharon of Cupcakes and Cutlery) and Melissa asked me to join the Blogfete Conference team for the annual bloggers conference held in Orlando, Florida. NOW she's getting ready to have a sweet little baby boy in just a few weeks and I'm thrilled for her!
So! I've offered to organize some games. Every baby shower is required to have some sort of cheesy game or two right? Well, I've hosted a few showers recently and I must admit that though this first game is a little, umm, unpolished, it has become a favorite as it's just hilarious. I found this game on a variety of sites but instead of individual contestants I split them into two teams. Here's how you play "Tinkle in the Pot":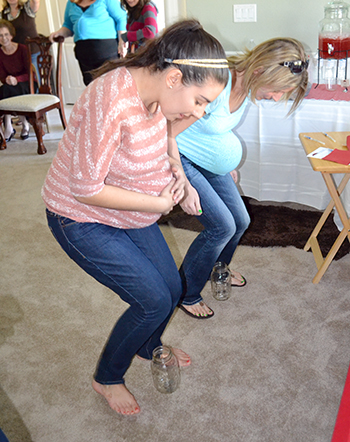 This game lets guests experience that 'run to the bathroom every 30 seconds' side effect of pregnancy!
Line up some jars on one side of the room. On the other, have guests line up (two teams) with a balloon and a quarter. Everyone should blow up the balloons and stuff them under their shirts. Then, they place the quarter tightly between their knees and race to the jar-holding the coin tightly as they waddle as fast as they can. Once at the jar, the contestant must 'pee' in the jar, dropping the coin neatly through the opening. The first team to make all of their potty runs will win a prize.
Next is 'Guess the Baby Animal Name' – another game I think is adorable and I've included a download for you! (just click on the image below.)  Your guests simply have to write down the name of the baby animal and who ever has the most right wins!
Lastly I wanted to make a special gift tag or two for little Lincoln's gifts and while scouring pinterest I came across salt dough. I've made a U.S. map with it and I thought it might be interesting to use for tags. I'm very happy with how they turned out. Here's how you can create some for your gifts too.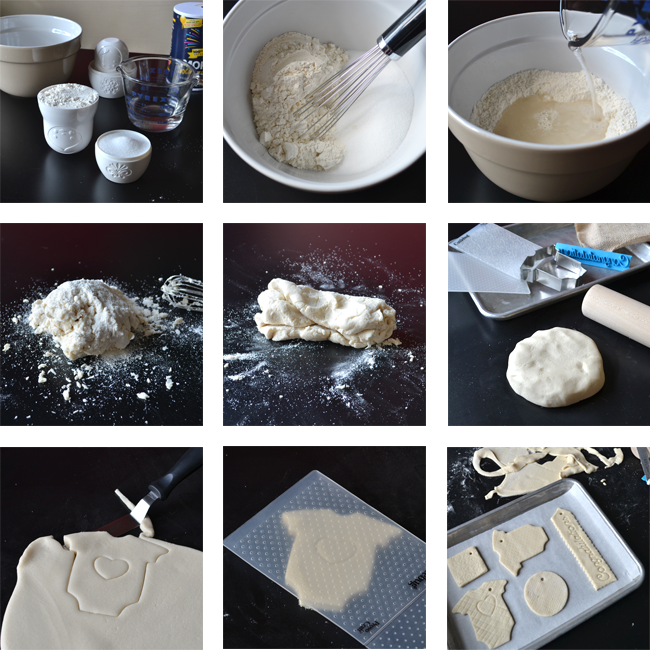 Mix together  1/2 cup salt with 1 cup of flour.  Add 1/2 cup lukewarm water and knead into a smooth dough for several minutes. I then rolled the dough out to about 1/4″ thick. Mine was the consistency of sugar cookie dough or fondant – maybe even playdough. It actually handled a lot like sugar cookie dough too. Note – I used parchment paper as I would for cookie dough, to easily lift the cutout, but the salt dough actually stuck to the parchment. I recommend just using flour on your table and keep moving the dough around as you roll it out.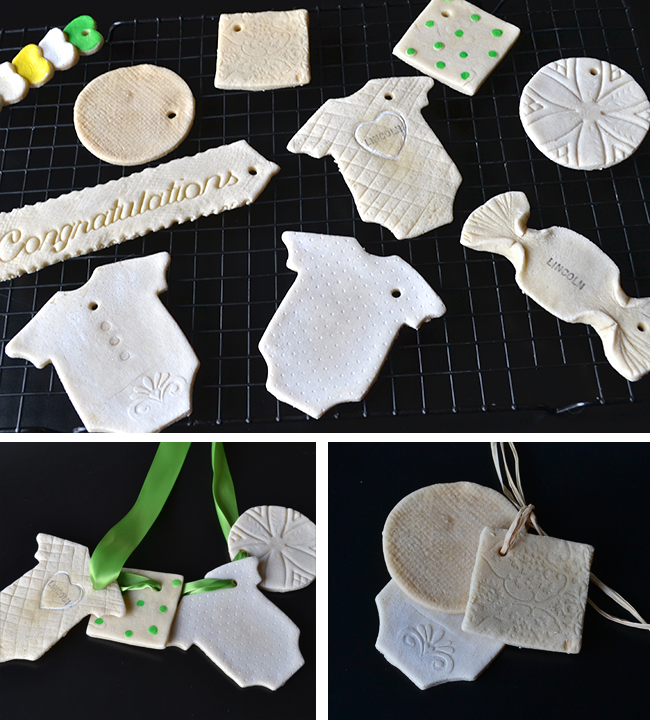 I tried a variety of things to make impressions in the dough. Sky's the limit. Then I baked them at 200 degrees for about two hours to dry them out. I hear you can also let them air dry. (I turned them over about half way through since I baked them on parchment paper and they started to 'bowl' up.)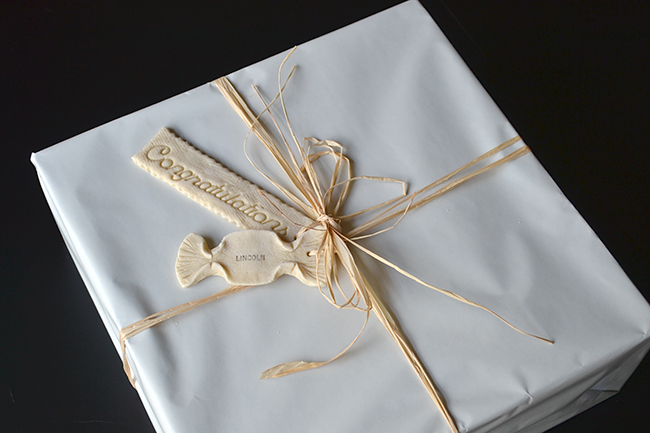 Once they're cool you can paint them with acrylic paints or do all kinds of things. I used coffee to highlight the burlap and flourish tags. It makes them wet but in time they'll re-dry. I like the simpler look so I didn't do too much. Feel free to experiment!
Join the whole online shower by visiting these other wonderful blogs who've taken part in Melissa's Surprise Virtual Baby Shower, starting with Sharon our host. Click the links below!
Sharon of Cupcakes and Cutlery
Carmen of The Flair Exchange
Lauren of A Fabulous Fete
Sandy of Firefly Confections
Aimee Broussard
Amy Belle Isle
Nichole of Casa De Crews
Mariah of Giggles Galore
Kori Clark of Kori Clark Design
Jessica of Live the Fancy Life
Sarah of Sarah Hearts
Tori of Thoughtfully Simple
I wish Melissa the very best as I know she's going to LOVE being a mother. Congratulations Melissa!
And thanks to Sharon and Carmen for coordinating such a groovy party!  #OhBabyMC